I am so pleased to be given the opportunity to guest blog on "Is History the Agreed Upon Lie?" Check out the blog and MCV Egan's great book, "The Bridge of Deaths." Today Harriett Ann Jacobs!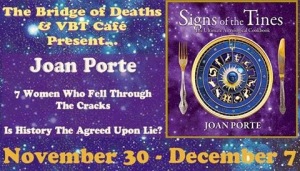 http://ishistorytheagreeduponlie.blogspot.com/2013/12/forgotten-women-of-history-by-joan.html
Today we turn our astrological radar on another largely forgotten African American hero, Harriett Ann Jacobs. She was born into slavery in Edentown, North Carolina on Feb 11, 1813 to an owner who sexually abused her for years. When she turned fourteen, he built her a cabin away from the main house so that his wife would not learn of his abuse. In a desperate attempt at freedom, she took a white lover, Samuel Sawyer, who despite being a lawyer was unable to free her from the abusive Dr. James Norcom. Norcom created a convoluted "ownership" contract that kept Harriett and the two children she had with Sawyer his property.
In 1835, unable to stand the abuse any longer, she escaped and for seven years lived in a nine by seven foot, rodent infested crawl space in her grandmother's shack where she was able to only catch glimpses of and hear her children occasionally. This is a horrible situation for any mother and made doubly so for Jacobs born with her Moon in Cancer, the sign of the mother nurturer. (Sawyer eventually bought his own children from Norcom but never freed them.)
When she finally made her way to freedom and Philadelphia, she became involved in the Anti-Slavery Reading Room and other abolitionist programs. However, following the passage of the Fugitive Slave Act, Harriett shuttled between Boston and New York, often in hiding, until a friend officially bought her freedom for $300.
That demand for freedom despite all odds and at all costs is a quality of Ms. Jacobs' South Node in Aquarius. (For a full explanation of the North and South Node, roles in an astrological chart see my previous entry on Ida Wells.) Coming from past lives as a freedom loving Aquarian the horrors of slavery were exceptional hard for her to bear. Freedom for Aquarians is as precious as air.
Upon learning that Harriet Beecher Stowe might use her story in a book Harriet's Aquarius energy again demanded freedom. This time it was the freedom to write her own book.

Incidents in the Life of a Slave Girl

opened the eyes of many of Northern churchwoman to the ravages of slavery on a "woman's chastity" and made the world aware of what few spoke about for generations – slave rape. During and after the Civil War she aided the adoption of children orphaned by slavery and worked with slave–refugee groups using her celebrity to raise money.
By writing her own book and telling her own story, Ms. Jacobs was using the talents of her South Node – her relentless quest for freedom – in service to her North Node – the sign opposite Aquarius, Leo. Leo demands attention. She had the inner strength to know that no one could tell her story as well as she, not even the revered Ms. Stowe
As a slave and then a run-away Ms. Jacobs never had a meal fit for a Leo, the King of the Zodiac. Had I the chance to cook for her from my book, 'Signs of the Tines: The Ultimate Astrological Cookbook" I would chose a dish a designated for Leo, my Lobster Ravioli with Mushrooms and Sage Cream Sauce." I only hope that somewhere in her later years she tasted something that luxurious. It would have suited her well.