Today the Moon floats into fiery Aries and forms a grand trine with Jupiter in Leo and Venus in Sagittarius fire signs. While this can make tempers flare, it is also a perfect time to make plans for growth (Jupiter) and money (Venus). In addition, Mars is in staid and steady Capricorn and making a positive aspect to Capricorn's ruler, Saturn. You can't ask for a better time to organize, analyze and evaluate. All of those New Year's resolutions, that we hear so much about, should be germinating in you now! There will be no better time before the New Year to take stock and make lists.
The December Full Moon takes place on December 6 and will be on the Gemini (Moon), Sagittarius (Sun) axis. (I love that axis is because that is my North and South Node axis.) Sagittarius is all about formulating ideas and Gemini is communicating those ideas. Hmmm, do you see a pattern here?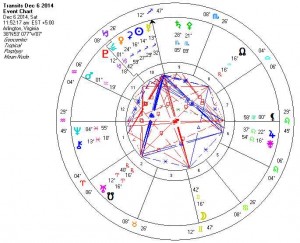 With the Sun conjunct Mercury, Ceres and Venus that day there is no reason for you not to start moving your new ideas into the public arena. No excuses – think it, believe it – do it!