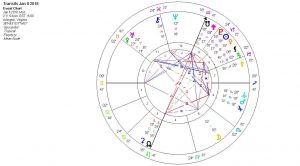 If you are one who makes New Year's resolutions now is a time to kick them into high gear.
We have a stellium (a large number of planets all in one sign) in Capricorn, the task master. Saturn recently entered Capricorn (as I mentioned in a previous blog), Pluto has been there since 2008, the Sun is in Capricorn until January 21 and for a few days Mercury will be joining them there.
This is a good time to make a plan on how you want to face the rest of the year (the Sun.) Make a plan, catch up on some phone calls, letters, and emails – (Mercury.) This is just a good time to organize, plan, clean and prioritize.
Conversely, if you are someone who is too rigid this is a good time to loosen Saturn's more odious elements from your life. Has Capricorn forbidden you from having any fun? Make a plan to escape those rings!
The Black Moon Lilith, that epitome of rebellious women, is also in Capricorn. This presents and interesting dichotomy. We have the classic pussy hat wearing woman, encased in the sign of the authoritarian male. She is not happy there and will not leave without kicking up some dust.  We saw that manifest in the Golden Globes last night with all of the women wearing black in solidarity and Oprah's speech.)