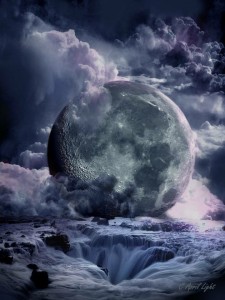 We will be able to go to "grannies house" for Thanksgiving this year by the light of the full Moon. While it will be at its peak on November 25, one day before Thanksgiving, she will still be bright on Thanksgiving.
If you are one who takes a walk after the big meal, look in the sky and she might be visible still even during the day.  In fact, being active might be the right prescription for this day both spiritually and physically.
This is a Gemini Moon because the opposing Sun is in  Sagittarius, this is the Astrological axis of information. Both Gemini and Sagittarius love to exchange knowledge. Gemini is proud of his ability to know a little about a lot and Sagittarius just loves knowing – and telling you what they know! This can make for some interesting Thanksgiving discussions, to say the least.
This Moon will occur a direct Saturn square Neptune (see my post two weeks ago for more information on this.) This is a clash of the authority and known social attitudes (Saturn) and dreamy, spiritual wandering (Neptune.) This is what we used to call a perfect clash of the generation gap; the established versus the young dreamer. As I said, this could be an interesting Thanksgiving around the dinner table!