A few months ago I did an early 2017 outlook report for my clients and saw a good deal of unrest. I was hoping against hope that my instincts were wrong – that we would never elect a fool like Trump – and that Hillary would somehow prevail but that her election would spark great unrest on the right. I saw the signs but was too horrified to think of him winning.
Now that the nightmare has become reality, it is clear to see that one of the manifestations of troubling planetary placements is the Women's March on Washington. Uranus, the revolutionary, remains in the masculine, aggressive fire sign of Mars while another titan, Jupiter, is in Venus-ruled, feminine Libra. Both are now facing off, opposed to each other in the sky. An opposition causes friction, a disturbance in the force field, if you will. This is an archetypical clash of male vs. female – Venus vs. Mars. Jupiter encourages growth, expansion and hates boundaries while Uranus just likes to cause disruption and fast change.
Jupiter is the Women's March on Washington, the large and inclusive force of female energy – facing down the angry white man – the aggressive Mars energy. Oppositions are always difficult but like the process of making a pearl, nothing happens unless the sand irritates the oyster. Beauty can come of opposition if we face them head on.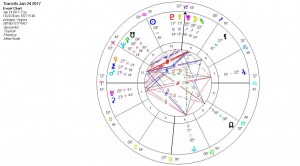 What is in the middle of the duel? It is Pluto, the instigator of this world upheaval. If you have been following my blog you will see many installments discussing this planet that forces secrets to the surface now in the sign that rules authority. Pluto brings the gunk to the surface – and demands that we clear it lest it destroys us. Trump has brought our racism, homophobia and religious fundamentalism to the surface – and now we must respond or die.
Who will win this battle – Jupiter or Uranus? I don't know – it all depends on the side we embrace. If you think January is disturbing, however, wait until February, as these placements only tightening and become further influenced by Mars.