Okay, Mr. President you have the transiting ascendant in the third house in Taurus – I am expecting one kick-butt inaugural address! You can do it – we know you can so I am looking for a bit more zing than your last one. Frankly, you should deliver the speech you gave on election night when the results came in. That was an "Obama speech."
He will certainly have our heart in it – with Neptune in Pisces transiting his first house his emotions are close to the surface. I have heard that the

Newtown

massacre of babies has more deeply affected him beyond his

uncharacteristic

emotional expression at the news conference held shortly after the murders. His passions are close to the surface now.
I am happy to see the Mars and Uranus opposition that has had me so nervous for his safety is starting to pass but it isn't far enough away for me to relax yet. I want Uranus out of his second house – but that won't happen for months and months.
More hopeful is the Uranus in Aries conjunct

Pallas

(the warrior goddess) in Aries opposing his progressed Sun in the house of power (8). Anyone expecting the conciliatory first term Obama better hold onto his hat! Yippee.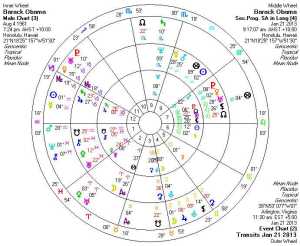 Good luck Mr. President and list to Truman – give them hell.